Deluxe Portable Toilets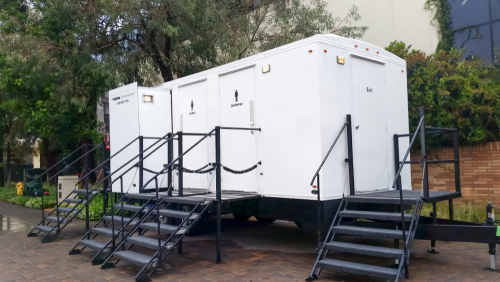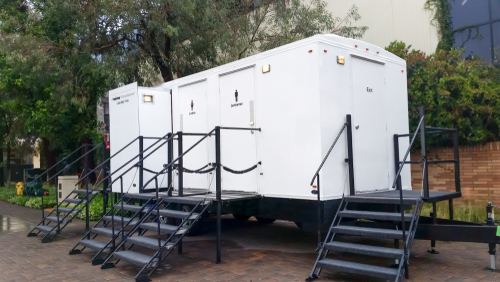 A deluxe porta potty is an improved version of the standard porta potty. It is designed to be bigger hence more spacious. These units also offer more comfort compared to the standard portable toilets. If you are looking for comfort at an affordable price, these portable toilets are what you need.
Features
Deluxe porta potties come with a range of features that make them the go-to porta potties for all sorts of events. Here are some of the features.
– Hygienic
Deluxe units are designed with more features than what the regular units offer. First, it's flushable. It comes with a bigger tank capacity so it can offer bathroom services for longer hours.
These units also come with a hand washing station with a sink and a sanitizer or soap dispenser, a side urinal and even a baby changing station.
– Safety
Safety is very crucial when choosing a portable bathroom. These areas are used privately, so you need to be assured of safety while doing your business. These units feature an anti-slip floor that prevents people of all ages from skidding and falling, therefore, preventing accidents.
– Comfort
These units are also very comfortable. They are flushable with running water for hygiene purposes. They also come with excellent ventilation slots to ensure the portable toilet is always fresh. These units are also designed with translucent roofs to provide sufficient lighting all day long. These units are also fitted with secure locks and hasps for privacy while in use.
– Size
These units are larger and more spacious than the regular porta potties. They offer more room for comfort. These units come in a size range of 44-47 inches in width, 45-48 inches in depth, and 89-91 inches in height. They also have a larger holding tank with a capacity of 60-70 gallons. They can be used for long hours even a whole day, unlike the regular units.
What events could use a deluxe porta potty?
Deluxe portable toilets, unlike the standard units, come with a sink or hand washing area. You can rent them for;
– Parties
If your indoor toilet cannot suffice for the party, deluxe porta potty will come handy. These units are easy to clean and promote hygiene since they are flushable and come with a sink.
– Food tasting events
Deluxe porta potties are ideal for anything that requires hand sanitation as it comes with a sink and hand washing area.
– Corporate event
Impress your colleagues and guests with quality service business and a quality restroom to relieve themselves. Deluxe units provide exceptional service with all the upscale features while still maintaining a reasonable price range.
– Concert
Deluxe units can be used to supplement standard units to cater to a multitude of people. They can be set aside for the crew, performers, and VIP attendees.
Looking for a deluxe porta potty in Sacramento, California? We have a range of portable toilets that you can choose from. We also provide extras to make the portable toilet feel like your home toilet for an unforgettable event for your guests. Contact us today!