Wheelchair Accessible Porta Potty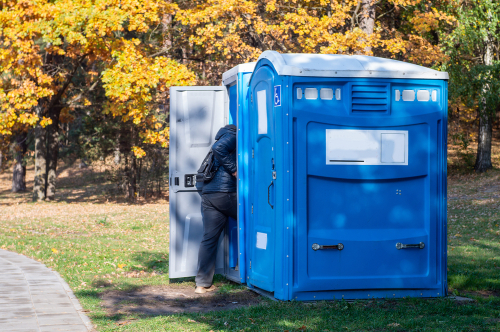 It's a great and thoughtful idea to accommodate everyone when you are hosting a small or large event. Portable toilets for those who require individual facilities ensure you cater to everyone, including those with special needs. Whether you are an employer or just throwing an end of year party, it's crucial to provide ADA compliant a wheelchair accessible porta potty. It ensures you are giving equal resources to all and eliminating discrimination.
What are the ADA requirements?
ADA dictates that at least every 5% of all porta potties provided in a location are wheelchair accessible. These regulations also require that one should provide one wheelchair accessible unit per 10 employees in a construction site or job site. Also, there should be one wheelchair accessible unit per every ten standard units at an event. These requirements apply to all places, including backyard and pool parties, festivals and concerts, sports events, parks, and job sites.
A wheelchair accessible portable potty can take any nature, whether standard, luxury, deluxe porta potties; you name it. The goal is to adhere to regulations and comfort to ensure that people with disabilities can comfortably use the units. Here are some features wheelchair accessible units should provide.
Features:
– Spacious
Our wheelchair accessible porta potties are very spacious, providing ample space for the user to maneuver. The area on either side of the toilet seat is wide for comfortable movement without any restrictions. The doorways are also very large, unlike regular units, to accommodate all sizes of wheelchairs.
– Accessible
These units are not designed like regular units. They are more accessible without strain to facilitate use by people with disabilities. The door handles are also easy to reach, and the door easier to open. The doorways of these units are designed with a flat-floor entrance instead of a ramp or raised entry. The design facilitates easier entering even without assistance.
The toilet seat is also positioned in a lower position for comfortable use, and the units are non-flush, unlike regular portable toilets. The tissue paper holder and hand sanitizer dispenser also offer ultra-simple operation to avoid any strain when in use.
– Support
Our wheelchair accessible portable toilets are designed with safety bars or handrails to grasp on. The handrails are also comfortable and easy to grasp. These rails are designed with anti-slip material. The safety bars come in handy when the user needs extra support when doing their business.
– Safety
Wheelchair accessible porta potties are designed to offer next-level safety. Users need to feel comfortable and safe to attend to their needs at ease. The floors of these units are designed with slip-resistant material that offers safety. The floor design is also completely flat, and the safety rails are strategically positioned for the user to reach them fast when in need.
– Comfort
The units are also designed with occupancy indicators for privacy. They are also designed with angled vents to keep the unit fresh at all times.
Are you a Sacramento resident looking for wheelchair accessible portable potties rentals? We provide services throughout Sacramento. Our services include cleaning the portable toilets and restocking the supplies needed. Contact us today!